VENYM ATRAX 3 Pedals UK Edition
VENYM ATRAX 3 Pedals UK Edition
Paypal - Pay in 4x without fees
By using Paypal in the payment process, you can pay in 4 times without any fees.
We recommend using this payment method if you Paypal account allows you. 
Shipping
All parcels will be shipped via Fedex.
FedEx will charge the shipping directly upon ordering.
If we have the stock, we will ship your order as fast we can, in the case your shipment's departure from our warehouse is delayed for any reason, we will immediately inform you via email.
Warranty and returns
This product is eligible for a 2-year warranty.
RETURNS
If you're not completely happy with the Venym's products you have just received, we try to be as easy going as possible when it comes to support, so if there's anything we can do for you please let us know at contact@venym.com.
If you do want to return your order, you can do so within 14 days after having received the products. Let us by sending an email to the address contact@venym.com
If the returned product is in as-new condition, you will receive a full refund. We reserve the right to not provide a full refund if there is any damage to the product.
The refund will be processed within 10 working days after having received the returned products. Venym will not cover your return shipping costs.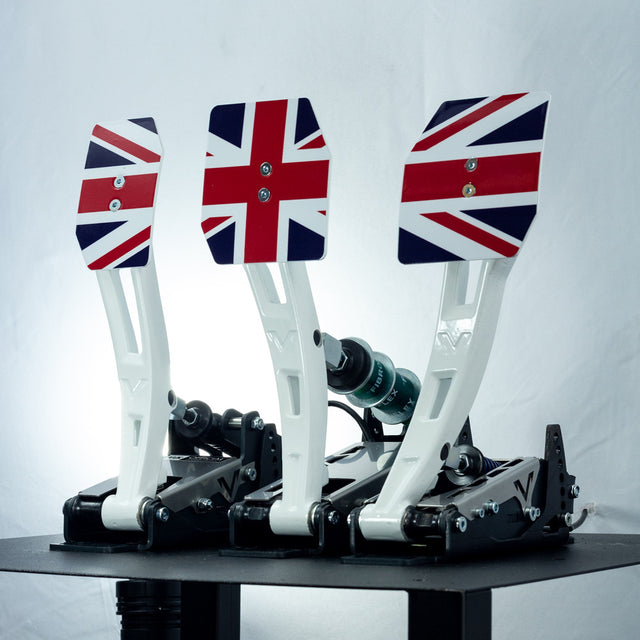 From racing to sim racing
Venym works in close collaboration with Mygale, which allows us to have the best engineers in real motorsport work on products for simracers. Analysis, design and calculation are the key words of our expertise. We have characterised everything that can happen in real life in order to translate it into simracing and make it available to all virtual drivers.
The ultimate sensations, an affordable price
Our simracing pedals use full loadcells in order to transcribe the mechanical forces into electronic information.

2 loadcells of 1kg for the throttle and the clutch
1 loadcell of 200kg on the brake.
As far as the mechanical feeling is concerned, the effort is transcribed by a spring for the accelerator, a spring plus a special kinematics in order to make the sim racers feel the same sensation as in real life with the clutch.
For the brake, the most relevant choice was that of the rubber which offers a real precision in the pressure of the pedal while giving a feeling of important effort as on a circuit.


French industry
Our simracing pedals are designed and assembled by a team of cars enthusiasts on the Nevers-Magny-Cours circuit, heart of motorsport in France. Our Venym pedals dedicated to sim racing are the first pedals designed in France inspired by the design and technologies used in F1 cockpits.
What's included ?
A set of Venym sim racing pedals
Our base rubbers and springs kit. Tested and approuved by some of the best simracers in the world. Our kit has been validated to bring the best experience in terms of sensation. It contains a pair of green rubbers (100kg brake force).
A dedicated simracing software
Mounting tools
Venym stickers for your simracing rig and our quickstart
Technical informations
Tailor made electronics
We have a dedicated ADC (analog digital converter) chip that allows us to sample 20bits on each pedal. Coupled with a 48mhz microcontroller, a computing power that allows us to process the signal and to interpolate the response curves on floating point numbers. All of this in near-real time, with a response time of 1ms. Where the competition only offers linear interpolation on integer numbers.
Software developped internally
The firmware and the "Pitstop" application (Windows 10) are also developed in-house. This allows us to be very reactive in correcting any bugs and above all in implementing new features (numerous and frequent updates).
Machined aluminium
Monobloc aluminium foundry. High resistance and time-proof
V' Design
- Design inspired from Formula 1. Fully customizable with a large choise of colors available. - Up to 200kg of force pressure, more than what needed in a formula (130kg)
Features
Full loadcell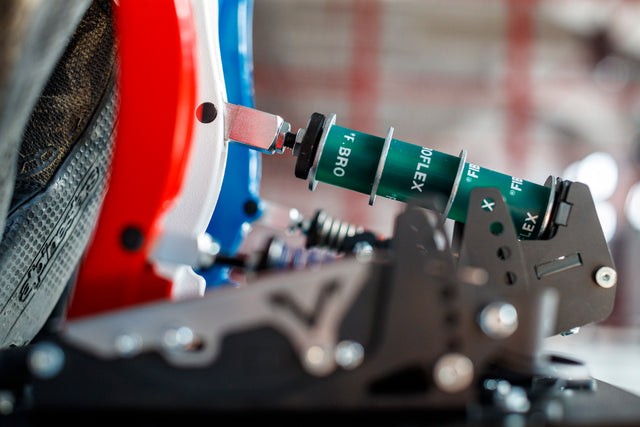 Brake force adjustable from 60 to 130kg makes your brakes instantly faster thanks to a 1ms sampling
Born to race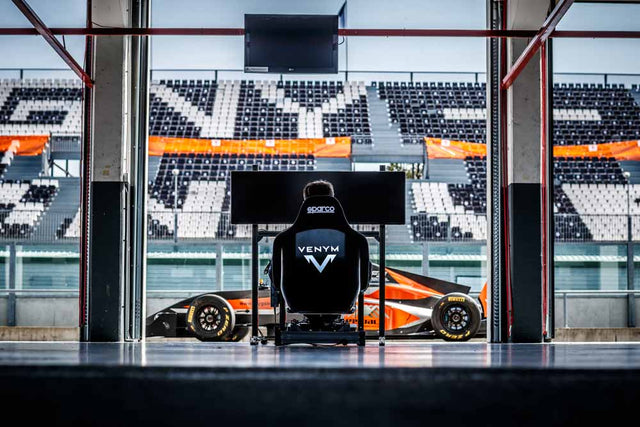 Supported by Mygale and its 30 years of experience in automobile competition
Our homemade software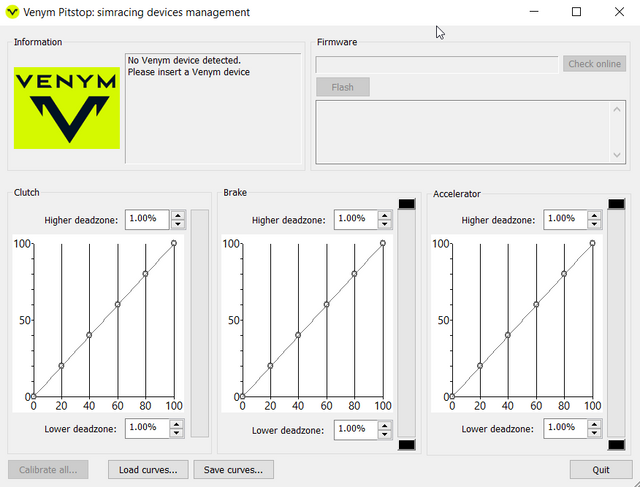 Our software allows you to setup your pedals the exact way you want