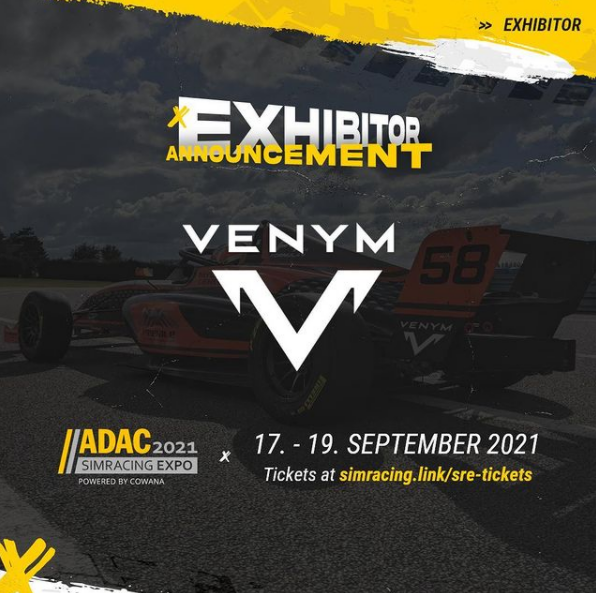 [17-19 SEPT] MEET US @ ADAC SIMRACING EXPO 2021
YES! Venym's team will be present at the ADAC Sim Racing Expo from 17th to 19th September. We will showcase for the first time ever our new pedals box made from aluminium and carbon.
"SimRacing aims to get as close to the feel of driving a real race car as possible. What better partner than an actual single-seater manufacturer could a hardware company have then? That is the strong point of Venym: Created by enthusiasts who are supported by race car manufacturer Mygale, the French company offers SimRacing pedals that are up to the standards of those used by actual racing drivers in their cars – and they will show them as an exhibitor at ADAC SimRacing Expo 2021!
Venym's pedals are inspired by technology that is used in the cockpits of single-seater race cars, including Formula 1. They are made from aluminum and carbon and will be ready to be tested at the Nürburgring, as Venym brings two full simulators fitted with an aluminum and a carbon version of their pedals, respectively.
That will not be the only highlight the French racing enthusiasts are planning on bringing: Thanks to the connection to Mygale, Venym's exhibition area will feature a Formula 4 car – namely the brand new 2022 version. Mygale can look back at 30 years of experience in building race cars, which Venym can profit from. The company may still be very new but it has a well-known advocate: Their ambassador is none other than IndyCar and ex-F1 driver Romain Grosjean."
Read more on https://www.simracing-unlimited.com/en/news/sre-exhibitor-venym